Indigenous machine manufacturing in the field of textiles and apparel industry is the need of hour and realizing this HNS Enterprises has designed,
developed and manufactured Hot Air Seam Sealing Machine to cater to the need of PPE suit manufacturing sectors in India.
"This machine was manufactured under the flagship of Aatmanirbhar Bharat scheme and thus all the parts of the machine are from Indian manufacturers only," said Harish Naik, from HNS Enterprises.
The first prototype of the machine was manufactured within a span of just 20 days and now batch of 15 machines are under final assembly stage.
"We have the capacity to manufacture 25 machines per month and seeing the demand we are also planning to introduce more machines for different segments apparel industry," he added.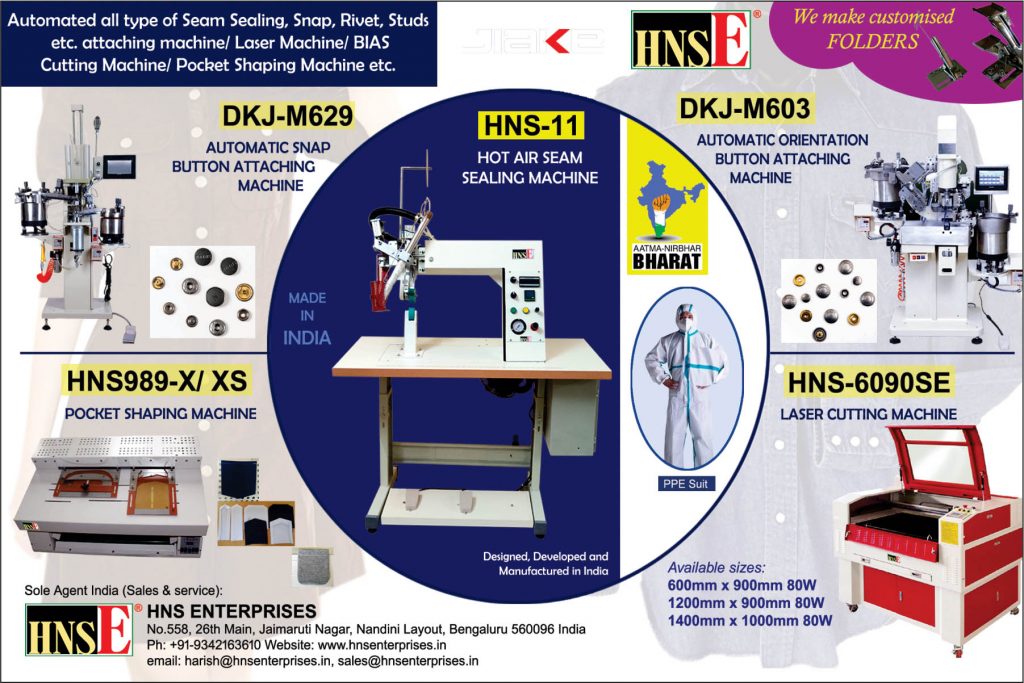 HNS Hot air seam sealing machine Model HNS-11 is designed, developed and manufactured in India. The machine is highly useful for the easy pressing of adhesive tapes of PPE Suits, rainwear, tents, boots, etc.
This machine is designed using simple, fast and reliable method used for taping over a sewn seam or joint to waterproofing.
Since the machine is simple it is easier to feed the fabric. Auto sensor allows motor to run only after nozzle positioning. Manual tape feeding assures that the tape feeding is smooth and prevents feeding.
It also has digitally controllable temperature.Machine is highly efficient and can run efficiently up to 24 hours continuously. The machine is suitable for any kind of fabric and seam sealing tapes.