DEFIES TOUGH TIME BY CASHING ON OPPORTUNITIES
Plans for new knits factory on the cards
Well for some companies these are really the most turbulent times ever and survival is the only focus for them right now.
But very few companies are utilizing the time to enhance their expertise in all areas be it production, product, quality or service to its clients.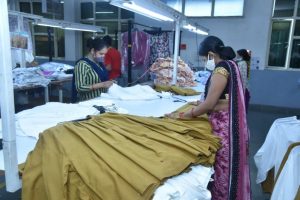 One of them is Noida based Saivana Exports that has looked upon the pandemic as a challenge and opportunity to improve all its operations.
The company's vision in terms of technology, efficiency, productivity and product profile has helped in sailing strong and sustaining.
The company has already planned to expand the operations knowing that the buyers who have been with them for more than two decades will remain with them and they need to be ready with product, quality and volumes once things start getting normal.
During these times SAIVANA has not only plans to expand and start new factories but also upgrade in areas of technology and performance.
Even in these challenging times the company did not cut any salaries of any employees assured all employees of regular employment. This was backed by company's visions that always focused on giving good work to its buyers and focus on small buyers rather than big ones.
Team PERFECT SOURCING caught up with the RAJAT SIKKA , MD, SAIVANA EXPORTS and got details on the interesting journey.
Excerpts from Interview:
PS: Please throw some light on the history of your company, tracing the journey since its formation.
Rajat: We started from the car garage in 1995 with just a seed capital of Rs.5000. In 1995 the trend was to join the Indian civil services but we were determined to chart our own course.
It was a struggle for first three years and we wondered whether we had taken the right decision or not.
Our strategy was simple since we could not compete with the big exporters at that time so we focused on the small buyers.
Those small buyers, over time, became big buyers and we got lucky.
We are exporting mainly to Australia, France and US.
We are working with high end fashion design houses like Tory Burch, Iro, Bonpoint etc.
PS: How is the business going? What has been the impact of Covid 19 on your production and product as well?
Rajat:  We saw a decline of 22% in sales and about 25% less pieces were made in financial year 20-21.
This is pretty much at par for the industry where demand was vastly affected.
Some export firms have lost 60% of their business.
The volume business is getting diverted to Bangladesh, Sri Lanka and Vietnam, especially now.
PS: How has the buyer's demand changed in Covid- era in terms of prices, product and delivery times?
Rajat:  The second wave of COVID has created a lot of uncertainty in the minds of buyers as a result they are scared and are very reluctant in placing new orders.
They have become more demanding and are asking for shorter lead times, squeezed margins and have become very selective about suppliers.
PS: Do you see some positive changes happening because of anti- china sentiments, is it helping bringing business back to Indian manufacturers?
Rajat: We really had hoped that it would help us but we are seeing most of the supply is shifting to our neighboring countries.
PS: We are hearing that basic and low priced comfortable products are in demand because of Covid-19 so what is your take on this and what changes you have observed in product and trend demand?
Rajat:  Most of the people are working from home and people cannot see brands they are wearing.
Garments are becoming a commodity and when something becomes a commodity then price becomes the sole selling factor.
However, when people will start going out again the price structure will become better.
PS: What is the price range of your products?
Rajat: We are in the middle to high segment of global fashion and our prices are very competitive. We are not working with buyers who are price sensitive and need volumes.
PS: Do you think automation and technology will play a major role in times to come for the garment industry, if yes why?
Rajat: Labour cost in India is constantly going up as compared to our neighbours.
Automation and technology is the only way to bring the cost down. The saved cost can be passed on to the buyer which in turn will increase the number and pace of orders coming to India.
Automation also cuts down on human error which remains a challenge for our industry. India has one of the highest man machine ratios in the world.
If you look at knit factories in Portugal or Turkey, there is hardly any labour and all production is done via automated machines.
PS: How technology elevated is your company? Which areas are you using automatic technology or plan to go for it this year?
Rajat: We are expanding out computer embroidery section and starting a new schiffli unit.
We are phasing out all our old machines and replacing them with new state of the art UBT machines.
We are actively exploring the world to import machines that will enhance our quality and production output.
PS: Do you think the company will see good growth in 2021-22 if yes why and how much?
Rajat: We anticipate to attain growth we saw in 2019-2020. I think the worst is over.
Vaccination in the US is helping spur demand as people have started going out.
PS: Please share how you are managing business in Covid times digitally as there is not travel/exhibition/meetings/physical sampling approvals?
Rajat: We were all working from home and it was very challenging.
Since buyers could not make it to India, we had to send new developments regularly to them which we did.
We ensured our sampling units remained opened.
If Delhi went into a lockdown, we shifted the sampling to our Faridabad units. Focus remained on sampling because if that did not take place there would be no orders for the next season.
PS: What is the expansion plan and by when it will be completed?
Rajat: During the pandemic we added a new factory of 16000 square feet, making it our sixth factory.
We are not planning for our seventh factory which will be solely focused on value addition.
We are also starting a knit division as so far we have only specialisation in the woven and silk category.
It is time to start getting ready for the post pandemic world.
PS: Cost of production is a critical factor today what steps have been taken by the company to reduce cost in different areas and how?
Rajat: We have identified duplicate processes in the company and eliminated them.
You will be surprised,when things are going good we don't to lose focus on this aspect.
Another thing we aggressively attacked was overhead costs.
High overhead costs can be a killer for any manufacturing unit. In partnership with members of the OGTC (Okhla Garment Textile Companies) members, we closely examined our overheads and then compared  them with other companies.
For example, we consider electricity as an overhead. What do you do? First replace all bulbs with cost efficient LED lights.
Secondly, explore options for solar panels. Thirdly switch off the lights when you leave the room for your lunch breaks or when work is over.
PS: What are the steps taken towards making factories green in product and production?
Rajat: Saivana Exports is the first garment exporter in India to report its Triple Bottom Line which can be found on our website www.saivana.com .
By TRIPLE BOTTOM LINE we mean, how did Saivana do financially, what activities Saivana do in the year for the environment and lastly what did we do for our employees and the local communities.
This TBL is the heart and soul of the corporate philosophy of Saivana and it was a concept I picked up at Harvard Business School.
We are not here just to make garments, but also to leave a better planet for the next generation and to make a difference in the lives of our employees and society.
Lot of our decisions are guided by the Triple Bottom Line.
Lot of companies talk about sustainability but we actually walk the talk.