Amidst the pandemic that has hit sales and marketing efforts of almost all companies in all
sectors, IMA s.p.a that has been offering world class solutions for automatic cutting organised a
digital event to launch its new cutting edge technology.
The idea of the event was to introduce new technology for the cutting room.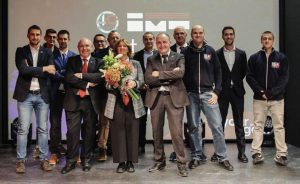 The company that has been active for 43 years has dedicatedly worked towards only one goal i.e the integrated and optimized management of the cutting room. At the first IMA Digital Event, IMA wanted to make it very simple for everybody involved, and have them understand the complete workflow before taking into consideration the individual phases of newly launched products i.e MAXIMA CAD System, Chronos robot, Phoenix spreader, new Polaris labelling machine, and new Tempest Plus cutting machine applying the ether CAT protocol.
The event proved to be very successful for the company as it was able to make 549 new contacts. To create a hassle free experience for all those attending the digital event the company had given presentation in Italian, English and Russian language.
The IMA Digital Event included an opening speech from Mirella Sardini, President of IMA s.p.a, as well as an

explanation of the Digital Event concept informing about the cutting process from Marcello Cecconi. In addition, Manzo, an IMA R&D representative, provided details on the new products launched by the company. The four new products that were announced at this event included IMA s.p.a Organises Its First Digital Event Launches Innovative Products Maxima CAD Chronos robot for handling and managing cloth rolls; Polaris: labelling machine and Tempest Plus: automatic cutting machine.
"After the sudden demise of Luciano Sardini, Founder, IMA S.p.a Italy Sardini, we wanted to pay a tribute to our captain who still remains present in each one of us. He left us with a great legacy and many beautiful and meaningful memories; he gave us the strength in this difficult year also to move forward in the project that he only started and shared with us all," said Mirella in her opening statement.
"This is therefore the first reason for the name "I AM PRESENT" because, as we feel that our captain is today with us to transmit his positive strength and energy," she added.
The event saw good online attendance from the industry and was appreciated for organising the event
with so much enthusiasm and detailing.