The newest association that has embarked a journey towards to the growth and development of apparel, retail and fashion industry is BSLA.
Started with a mission to bring all the stakeholders of apparel and retail segment the BSLA, the members of the association include the who's who of apparel and textile segment of India.
The association inaugurated its office in New Delhi recently.
The association met with the Textile Minister also Shri Piyush Goel and discussed how the association plans to pass on the benefits to the industry at large via memberships, summits, conferences and programs that can contribute to the progress of the industry.
On October 8, the association organised a meet at Hotel Conrad, Bengaluru where the members discussed important agendas related to the future actions to be taken up by the association.
Prior to this the association organised a Glocal Textile Summit where the important stakeholders of the industry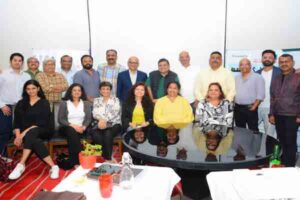 Brand heads, CEOs, CXO's, & Sourcing Heads of Apparel, Fashion & Textile Industry are the acting members of the association who have taken up the onus of becoming an important body for discussing, acting on challenges, working on opportunities with collaborated solutions to act as a catalyst to accelerate growth for the industry.
Sustainability, traceability, digitalisation are some of the areas where several webinars were held informing industry at large about latest trends in the market.
The association is striving hard to bring all the experts and professionals from the buying and sourcing side to share their knowledge and work on a common goal of increasing trade in both exports and domestic market.