India is finally seeing some ray of hope as Many existing garment and textile making companies have announced new projects for apparel manufacturing or have seen good growth from home and medical textiles.
Dollar Industries, Kitex Garments, Welspun India, Trident Group, are some of the companies that have expanded and increased business manifolds even in the moments of slowdown.
The home textile segment is experiencing growth because all over the world most of the people are working from home and are spending money on improving home decor.
There is an increase in demand for all categories of home textiles like bedsheets, carpets, rugs, home linen and decor from all over the world. 
An exclusive report by team PERFECT SOURCING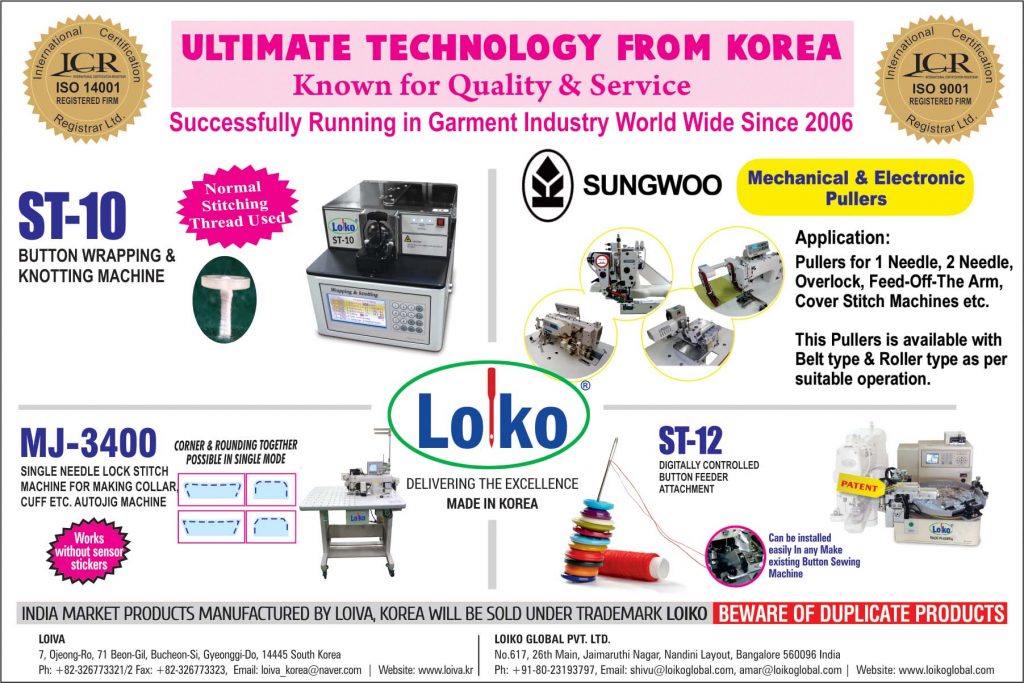 Welspun India registered robust 8% YoY and 64% QoQ growth

Welspun India registered robust 8% YoY and 64% QoQ growth on back of buoyant demand and
volume increase in Q2FY21.
Both its Global & Domestic E-commerce business continued to see strong performance.
With addition of Scott Living license to its brand portfolio, the company is now evolving into a B2C home textile player.
KPR MILL LTD TO EXPAND GARMENT BUSINESS..
INVESTMENTS WORTH RS 250 CR ON THE CARDS
KPR Mill Ltd is venturing into the expansion of its garment segment by establishing a new garment factory with a capacity of 42 million garments per annum at an estimated project cost of Rs 250 crore.
This expansion would drive the revenue going ahead as the garment segment is the highest revenue contributor to the company's total revenue with a share of 42 per cent.
Also, on the industrial front, many global companies would shift buying from China to other countries, including India.
India is one of the largest producers of raw materials such as natural fibre, cotton, jute as well as of synthetic fibre.
This favorable shift would drive the company's garment business in the coming time.
The company has also come up with its quarterly numbers for the period ended September 30, 2020.
The consolidated revenue for the quarter Q2FY21 came in at Rs 941.92 crore, registering a 16.6 per cent YoY increase and 74.2 per cent QoQ increase.
EBITDA for the quarter grew by 10.7 per cent YoY to Rs 189.4 crore as against Rs 171.03 crore in the corresponding quarter last year, with a corresponding margin contraction of 106 bps while EBITDA margin for the quarter stood at 20.1 per cent.
PAT for the quarter came in at Rs 112.54 crore, registering a 3.1 per cent YoY increase and 86.6 per cent QoQ increase.
The company has a capacity to produce 1,00,000 MT of yam per annum; 40,000 MT fabrics per annum; 115 million of ready-made knitted apparel per annum, 66 windmills with the total green power generation capacity of 61.92 MW; co-gen cum sugar plant with a capacity of 30 MW & 5,000 TCD and ethanol plant with 90 KLPD capacity.
The company's revenue mix comprises of yarn & fabric (42 per cent of sales), garment (42 per cent), sugar (10 per cent) and others (6 per cent).
GHCL announces Q2 FY21 Results, Revenue is up by 77% from Rs 440 Cr
The company has seen good growth in home textiles segment.
Home Textiles business revenue ­­­­is at Rs 297 Crores in Q2FY 21 as compared to Rs 283 crores in the corresponding quarter in FY20.
R S Jalan, Managing Director, GHCL said, "As the COVID-19 impact continues, global macroeconomic environment remains volatile due to a resurgence in reported cases.
In India, since the easing of the lockdown, economic activity has started to recover.
Our businesses too are returning towards normal.
Better consumption patterns, robust improvement in operational efficiencies, cost reduction programs coupled with volume growth have led to improved financial performance.
We appreciate the trust of our stakeholders and thank our employees for their unrelenting dedication and collaborative spirit during these unprecedented times".
Net Revenue for Q2 FY21 is at Rs.779 Crores as compared to Rs. ­­­­826 crores in the corresponding quarter ended Sept 30, 2019.
However, revenue is up by 77% from Rs 440 Crore and EBITDA is up by 93% from Rs 84 Crore.
DOLLAR INDUSTRIES COMMISSIONS 4MW SOLAR PLANT IN TIRUPUR
Dollar Industries Limited, one of the leading apparel brands in India, has commissioned a 4 MW solar power plant at its manufacturing facility in Tirupur.
The solar plant is a part of the company's 'Green Mission' initiative and has a capacity of generating 75 lakhs power units annually.
The firms' objective for installing the solar plant is to not only reduce costs but also make the spinning unit at Tirupur sustainable and self-reliant.
To produce 1 kg of cotton yarn, the cost of power is approximately Rs 27-28 which is expected to feed almost 50 percent of the daily consumption at the spinning unit.
Moreover, the solar plant will help in curbing CO2 emissions by 9000 kgs/per day with a sustainable environment.
Vinod Kumar Gupta, Managing Director, Dollar Industries Limited stated, "We have always been a responsible corporate with a substantial focus on environment-friendly practices.
With the current pandemic situation, it is imperative to reduce costs and at the same time also create a clean and eco-friendly manufacturing facility protecting the environment.
We at Dollar have been making constant efforts to operate in an environmentally friendly and sustainable manner."
The solar plant has been commissioned by Indway Power Energy, which is an EPC (Engineering, Procurement and Construction) partner from Coimbatore.
The power generated from the solar plant will primarily be used for the firm's spinning unit. In case of excess power will be utilised to feed the dyeing unit, which is located at SIPCOT Industrial Park, Perundurai.
The firm has stated that it has invested Rs 18 crore for the plant and that the expected payback period is 5 years.