Fab Nation Ind, one of the exclusive distributors for EFI Reggiani Printers is offering latest technology in DTP along with services, technical back up and training to be able to give the best output. Shashank Sarogi, MD, Fab Nation Ind is working diligently and aggressively to install EFI Reggiani at all corners of the country.
"EFI Reggiani printers are able to process any kind of substrate ensuring the highest standards of productivity, reliability and quality. Thanks to water based inks and low consumptions, EFI Reggiani Printers are fully eco-friendly and this is what our industry needs right now," said Shashank.
The company recently installed EFI Blaze at Alok Textile Mill.
The BLAZE printer is equipped with EFI Reggiani's state-of-the-art technology, guaranteeing quality and reliability.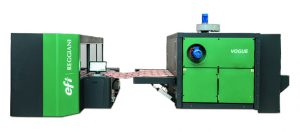 Another printer being promoted by Fab Ind is the EFI Reggiani VOGUE, an industrial textile printer designed for superior-quality direct-to-textile printing in fashion applications is also offered by the company.
The USP of the printer is that apparel manufacturers can attain higher levels of productivity and growth using inkjet print, digital front end (DFE) and production workflow technologies from Electronics For Imaging.
In India the company has already installed eight EFI Reggiani printers combined with complete training, installation and service support the company is geared for high installations in 2022.
The 1.8 meter wide device prints at resolutions up to 2400 dpi with 16 printing heads and 4 to 72 picoliter drop sizes.
The printer boasts an innovative recirculation system that saves ink and reduces maintenance during machine operation and between stoppages.
The recirculation system also reduces the need for specific air conditioning and humidity controls, saving energy and reducing overall usage costs.
An innovative new enclosed printhead design on the VOGUE simplifies the carriage layout and ensures easier print head removal.
"Whether it is for apparel and accessories, sportswear or footwear, the EFI Reggiani VOGUE can handle all type of products. The new printer creates an effective, more efficient manufacturing model for the fashion space," informed Shashank.
At present Fabnation is promoting a variety of digital textile printers from EFI Reggiani along with AQUA Premium Reactive inks that can print brilliantly with EFI Reggiani printers.
It delivers incomparable shades and deep intensive colours.
The ink is eco-friendly water-based inks are designed to leverage EFITM Reggiani digital printers' performance.
"Inks are specially designed for the Kyocera printhead technology, which ensures an extraordinary level of print durability, longer life of printheads, and reduced maintenance costs," updated Shashank.