Will India lose share in US and Eu or gain
Ananalysis
As per the latest report by Wazir Advisors US economy is expected to reduce by 3 to 4%, whereas EU's economy will reduce by 5 to 6%. Moreover, in 2020, the combined apparel consumption of EU and the US is expected to reduce by approx. US$ 308 bn.There will be total reduction of US$ 122 bn. in apparel imports of EU and the US because of lower market consumption.
Expected Impact on Apparel Consumption
Online stores remain the only option to buy apparel, but consumers are primarily focusing on grocery, medicines and staples purchase. Apparel purchasing will largely be delayed due to:
• No urgency to replenish

• Uncertain economic scenario
• Reduction in occasions to go out (schools, offices, restaurants, gyms, etc. are all closed)
• Limited product options and late & expensive deliveries (online stores)
• US as a society is more consumerist compared to Europe. Younger population with a habit of regular spending will cause US to maintain a tad higher consumption than EU during the lockdown period; and more importantly, faster return to normal consumption levels.
• European economy was already under stress for last couple of years and countries like Italy and Spain, having been hit worst by the epidemic will cause lower level of consumption than the US in 2020
Expected Impact on Apparel Consumption
• EU Market: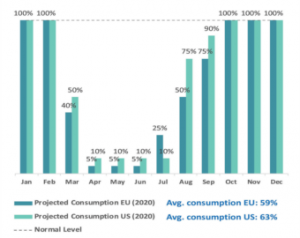 • 41% less consumption due to store closures
• GDP shrinkage by 5 to 6%
• Net impact expected – 45% lower apparel consumption in 2020
• US Market: • 37% less consumption due to store closures
• GDP shrinkage by 3 to 4%
• Net impact expected – 40% lower apparel consumption in 2020
Note on India's Exports Under Various Scenarios
• India is competitive in cotton products and women's fashion wear but once the market revives in H2 2020, the demand in US and Europe would be for autumn-winter season products where India's expertise is missing.
• Also, by that time China will be fully geared up for production. This will re-establish Vietnam and Bangladesh's broken supply chains as well.
• Scenario 2, where India captures some of the trade share from China, can only happen when Indian exporters focus immediately on synthetics – functional, performance and outerwear apparel; and improve their competitiveness in core categories where China may lower prices to retain share.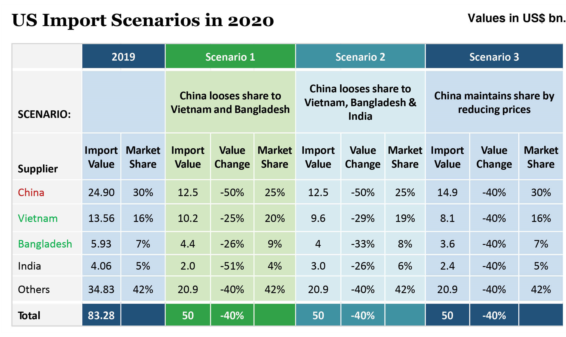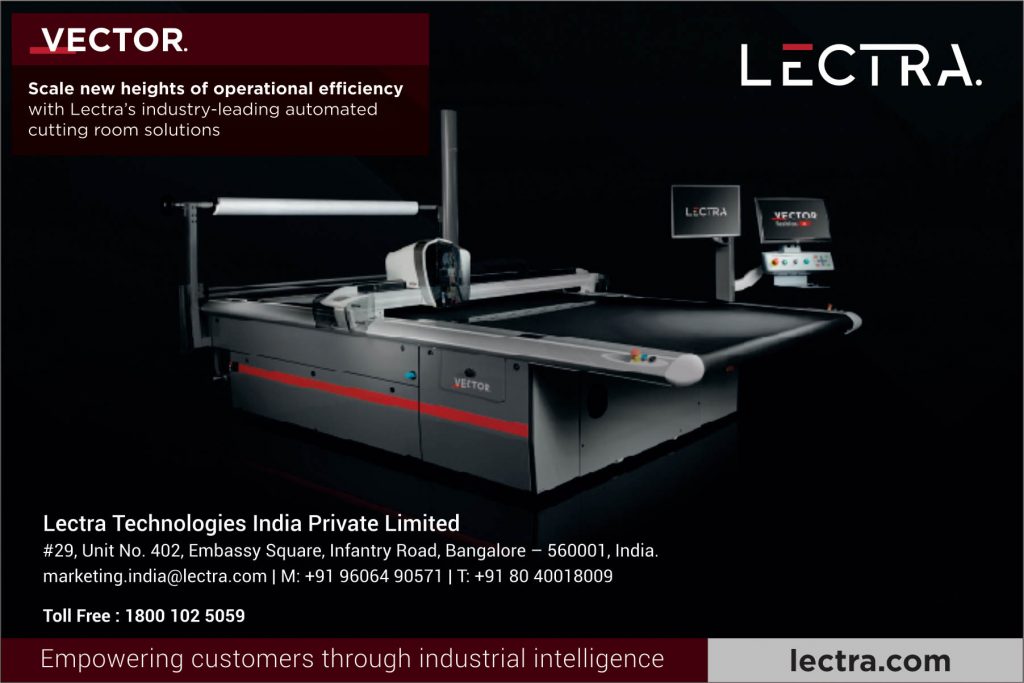 Message for Indian Apparel Exporters
 • 60% of India's apparel exports are destined for EU and the US markets. Retaining market share in these markets in 2020 will be critical for Indian industry to survive. India will face stiff competition from Bangladesh and Vietnam but also from China which could lower prices.
• The strategy for Indian apparel exporters, therefore, will be to Consolidate and Diversify. CONSOLIDATE
• India has the capacity and competence to gain share in its core cotton based categories. In some women's fashionwear categories where orders are smaller and there is a need for value addition (embroidery, schiffli, etc.), India can gain share in both cotton as well as manmade categories.
• Important here will be to focus on manufacturing excellence and improve cost competitiveness to ward off business risk from China or others lowering prices to retain market share.
DIVERSIFY
• Product basket diversification beyond cotton is more important today than ever. In medium to long term, Indian apparel exporters need to invest and develop expertise in MMF garments – winter wear, outerwear, functional & performance wear, etc.
Article contributed by wazir advisors