INTERNATIONAL BRANDS PLEDGE TO BECOME COMPLETELY GREEN
With Covid 19 changing dynamics of business; everyone is taking the warning of climate change its effects seriously now more than ever.
While earlier also we would often hear about brands going green the pandemic has multiplied the number.
The Warehouse Focusing on Sustainable Products
The Warehouse is making sustainable products more accessible and affordable as it seeks to become the country's most sustainable company.
The retailer said it believes it can become New Zealand's most sustainable company by providing access to products sourced sustainably and delivered at affordable prices.
"Today, more than ever, consumers are rejecting the trade-off between affordability and sustainability. They are asking for both," said David Benattar, chief sustainability officer at The Warehouse. According to the company, more than 5000 products at The Warehouse now carry sustainable attributes which include certified sustainable materials or plastic-free packaging.
The retailer has also rolled out more sustainable packaging guidelines to reduce unnecessary plastic usage.
Since last year, more than 24 tonnes of soft plastics have been collected from The Warehouse's Soft Plastics Recycling Scheme across 17 stores.
"Our sustainability impacts start where our products are sourced," the company said in a statement published online.
The Warehouse has had an ethical sourcing program in place to protect the welfare of workers in its supply chain.
In addition, more than 3500 products have been sourced through The Better Cotton Initiative, which trains cotton farmers on efficient water use, better care for the soil, as well as harmful chemicals reduction in their farming.
ASOS Creates Circulation Collection
ASOS, one of the world's leading online fashion retailers, has announced the launch of its first 'circular collection', designed and made to meet 'industry-leading circularity principles'.
The launch follows ASOS' commitment at the Copenhagen Fashion Summit in 2018 to train all ASOS designers on circular design by 2020.
Since then, ASOS has created and launched an educational programme with the Centre for Sustainable Fashion at London College of Fashion, UAL, which has since been rolled out to all ASOS designers.
"Designers, by definition, seek to transform materials skills and resources into greater value, in aesthetic and practical terms. What this involves depends on what is recognised as valuable.
Using zero-waste design pattern cutting methods were used to ensure that all the fabrics were used in the most efficient manner minimizing waste.
Along with that recycled input was adopted for selecting materials with a recycled input to lower the impact of materials and to drive uptake of recycled materials within the fashion industry.
Durability, Versatility and mono-material were some other points that were considered for creating this range.
H&M brings 'garment-to-garment' recycling machines in-store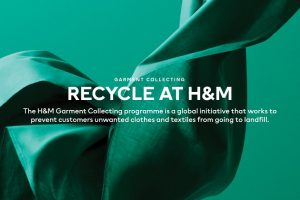 H&M has installed a machine which disassembles old clothing and re-assembles the material into new textiles in one of its stores, in what it claims is a first for the fashion industry.
The machine is called Looop and will open to the public on Monday (12 October) at the retailer's store in Drottninggatan, Stockholm.
It is capable of separating textile blends, which are hard-to-recycle but make up the majority of clothing sold by high-street retailers.
Looop works by cleaning and shredding garments into fibres, separating them by material type and then spinning them into new yarn.
The yarn can then be knitted into new garments. The process purports to use no water and no chemicals, but virgin materials do need to be added to ensure there is enough feedstock to create new items.
H&M has said it will keep the proportion of virgin materials to a minimum and ensure they are sustainably sourced.
H&M has been working with the Hong Kong Research Institute of Textiles and Apparel (HKRITA) to develop "garment-to-garment" recycling technologies for several years, in recognition of the fact that just 12% of the clothing sold globally each year is recycled.
Of this clothing, the vast majority is downcycled – shredded to make products like insulation.
It previously debuted a hydrothermal recycling process, but the updated processes used in Looop purport to have a lower environmental footprint.
Customers wishing to use the Looop machine will be asked to pay 100-150SEK (£8.50-£13) to deposit their used clothing and to watch it being recycled in real-time.
H&M Foundation's innovation lead Erik Bang said he hopes the machine will have a "seeing is believing" effect, encouraging consumers to be more mindful of their fashion waste footprint and other businesses to scale up textile recycling efforts.
"Textile recycling is incredibly complex and all the solutions are not here yet," Bang said. "But sooner than you think, we'll be able to close that loop and then we need your end-of-life textiles to put the solutions to work."
H&M Group, which also owns brands like Other Stories and Monki, is working towards an overarching vision of becoming a "fully circular" business by 2030.
It is a member of the Ellen Macarthur Foundation's 'Make Fashion Circular' initiative, which covers all parts of the value chain, from design to end-of-life, and also encompasses the Foundation's third and final circular economy principle – nature restoration.
But, like many other fast-fashion chains, it has come under increasing pressure from green groups and consumers to produce fewer products and extend the lifecycles of the clothes, shoes and accessories it sells.
Online Retailer Zalando Plans to Achieve Sustainability Flag for 60,000 Products
Online fashion retail platform Zalando announced this that it now has more than 60,000 items with 'sustainability flag' labelling, up from 27,000 this time last year.
Flags are awarded to products with at least one characteristic that makes them more environmentally friendly than others in their category, such as the use of recycled, organic or regenerative materials.
Pre-owned items are also flagged up. Zalando said in a statement that four in ten of its customers are now opting for items with a flag.
"In a recent internal survey, 34% of our customers said that in light of the coronavirus pandemic, sustainability has become more important to them," Zalando's chief executive Rubin Ritter said.
"With this major shift in mindset, there is a demand and momentum for change, and a need for the fashion industry to transform. Together with our partners, we want to be the engine for this change and enable our customers to make more sustainable choices even more easily."
Zalando has set out a string of sustainability commitments over the past year.
It has bolstered a commitment to carbon-neutral operations with science-based climate targets and an estate-wide solar panel and green buildings scheme.
To improve its assessments for the sustainability flag labelling scheme and to encourage third-party brands to beef up their own environmental approaches, the business has signed up to the Sustainable Apparel Coalition (SAC) to sustainability assessments mandatory for its private labels and partner brands sold on its platform.
Lenzing Launches carbon-zero TENCEL™ branded fibers
The TENCEL™ brand is now going carbon neutral with a "reduce-engage-offset" approach, which helps to reduce the product's carbon footprint, engage industry partners and offset unavoidable emissions to drive decarbonization in the textile industry.
The new carbon-zero TENCEL™ branded lyocell and modal fibers, certified as CarbonNeutral® products will contribute to lower carbon emissions and energy consumption across the supply chain.
As part of Lenzing's longer-term "true carbon zero" campaign, four key levers will be deployed to cover energy reduction, renewable energy, new technology and supplier engagement to achieve carbon-zero in the long run.
Following the strict guidelines of The Carbon Neutral Protocol means that the emissions associated with the fibers' production, manufacturing and distribution have been calculated and offset. Under the guidance of the TENCEL™ "true carbon zero" campaign.
Lenzing's goal is to reduce its specific greenhouse gas emissions by 50% by 2030. Biodegradable and derived from botanic origin, fabrics produced using carbon-zero TENCEL™ fibers will have a third party verified label, the fibers will also feature the functional benefits of standard TENCEL™ branded fibers including gentleness on the skin, long-lasting softness, silky smoothness, enhanced breathability and color retention.