Despite the established nature of the fashion industry, AI is fundamentally transforming the manufacturing of products to the way they are marketed and sold. AI technologies are transforming the fashion industry in every element of its value chain such as designing, manufacturing, logistics, marketing and sales. Not to forget that the fashion industry is notorious for its wasteful and environmentally damaging practices accounting for over 10% of global carbon emissions a percentage which is slated to increase to 24% of the global carbon budget by the year 2050 at current demand.
Addressing these complex global challenges requires new skills and capabilities in design, business, systems thinking and data science. The solution being circular fashion which is a part of the circular economy, an economic system that at its core is embedded with an ideology of reuse, recycle and refurbish in order to eliminate waste, stop items from going into landfills, and extend the lifecycle of products by keeping them in use and in circulation.
It has become clear that for the fashion industry needs a fundamental redesign to evolve in the future.
What is Artificial Intelligence?
AI is an overarching term for a collection of technologies. It deals with computer models and systems that perform human-like cognitive functions such as reasoning and learning. AI software is capable of learning from experience, differentiating it from more conventional software which is preprogrammed and deterministic in nature.
Artificial intelligence (AI) doesn't necessarily mean giving intelligence or consciousness to machines in the same way that a person is intelligent and conscious. It simply means the machine is able to solve a particular problem or class of problems.
How AI Help Designers and Economy ?
The way we design new products and services has scaled in ambition to include our entire economic system. New tools such as artificial intelligence can ensure that the only limitations we experience are those of our imaginations and the world's finite resources. This learning path explores what artificial intelligence is and how it can be used to accelerate the transition to a circular economy, focusing in particular on the opportunities for AI to:
Inform and accelerate efforts to design out waste and pollution
Increase the effectiveness of and optimise circular economy business models
Streamline the infrastructure needed to keep products and materials in use
Providing designers with the tools to design for circularity is essential to make fashion circular.
By focusing on how a product will be made, how it will used, and what will happen to it afterwards, designers can unlock the full value of clothing.
Thoughtful design coupled with innovative business models can make the end of one customer's experience one such route could be repairing or customising a garment; another could be swapping, donating or selling it. If it has been made from safe and renewable materials, and made to be made again, it can feed back into the system and be used to make new clothing.
How AI Helps in New Business
Our industrial economy built over centuries requires new approaches and technological might. According to research, AI can not only accelerate the shift to a more sustainable future, but also generate new value.
Already, AI is helping businesses quickly make sense of data and make complex decisions. Looking specifically at two industries i.e. food and consumer electronics, the value of AI starts to become clearer.
AI for Pricing
With over 35,000 brands represented and close to 100 million unique items processed, the companies such as ThreadUP are using AI provided "by Vue.ai" to process inbound items via image recognition that enables automated visual tagging and assigns attributions based on necklines, patterns, label name, colour, fashion edginess, and more. Tapping into its extensive database, the company uses AI-driven visual recognition and includes attributes that define wear and tear enabling the company to assign resale value at scale for each one of its millions of unique items.
Designing products that last
We need to rethink the way we design products so they maintain their value over longer periods of time or so they can be reused. Already, AI has enabled the discovery and production of new materials that help do this.
AI for Personalised styling
Additionally, while many companies can and do leverage AI for personalised user experiences based on previous shopping and browsing behaviour. The volume of unique items processed daily magnifies the challenge, because it is all about finding the perfect needle in a haystack item for that consumer at that time. The AI can also create different service levels based on customer loyalty, historical spend and inclination to participate in other service offerings such as its box services, or special retail partnerships.
Few Companies are using AI for circular fashion by lining up products through a box service that sends 10 items that are hand-picked by a stylist virtually. The service leverages Vue.ai's technology to help stylists fulfil orders based on the consumer's previous history, as well as enhancing those suggestions with predictive analytics and trending data to find seasonal and up to date fashion trends.
Brands like Dior, Nike, ThreadUp, Nordstrom, VF Corporation, Macy's all are the top brands using AI in their products.
A Shift towards Circular Economy
Today's industrial economy is hugely wasteful. As population size and consumption continues to grow, we need to make an unprecedented, economy-wide shift or the effect on the planet will be irreversible.
Instead of our current "take-make-waste" economy, we need to shift to a system where waste is dramatically reduced and growth is decoupled from the consumption of finite resources—a circular economy.
Maximizing new business models
Similarly, business models need to shift to prioritise the elimination of waste. This means an emphasis on subscription services or leasing rather than owning products.
AI can help increase the value of these business models by combining real-time and historical data to help us make better decisions about pricing and demand prediction, predictive maintenance and smart inventory management.
With an AI algorithm a company is able to quickly set competitive prices for the seller, while offering a good margin on the second-hand market.
Brands Using AI
Thread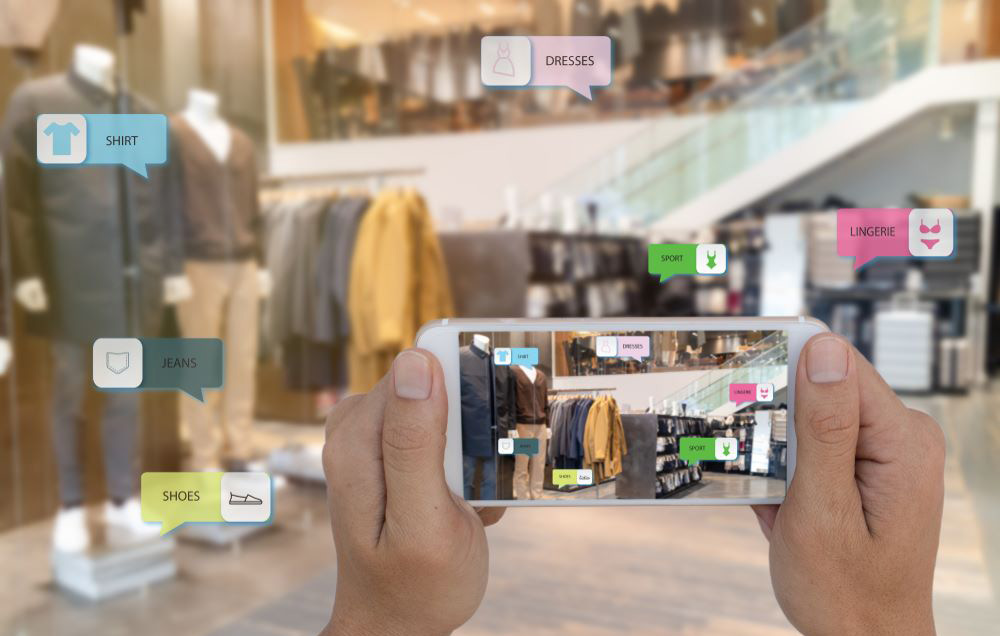 Thread is a UK-based fashion retailer, launched in 2012. Its core premise is that it will pair customers with a stylist and create tailored recommendations on a weekly basis, based on the customer's stylistic preferences. It serves as a worthy example of the best way to maximise human skills, but also scale these capabilities through the use of artificial intelligence.
Although the process on which the company is built on AI, it is worth noting that these human stylists play a vital role in this process, selecting the inventory for the Thread website and fine-tuning suggested outfits. Recommendations are sent to customers once per week and they can use a Tinder-style interface to send feedback whether they liked the outfit or not. This is central to the optimal functioning of Thread's technology; the more feedback they receive on suggested outfits, the better their recommendations become over time.
By using artificial intelligence, Thread can spot patterns in images that reflect a customer's preferred style and comb through thousands of products to find the right item, in the right size. If it gets it wrong, its AI system (known internally as 'Thimble'), will probably get it right next time.
Zara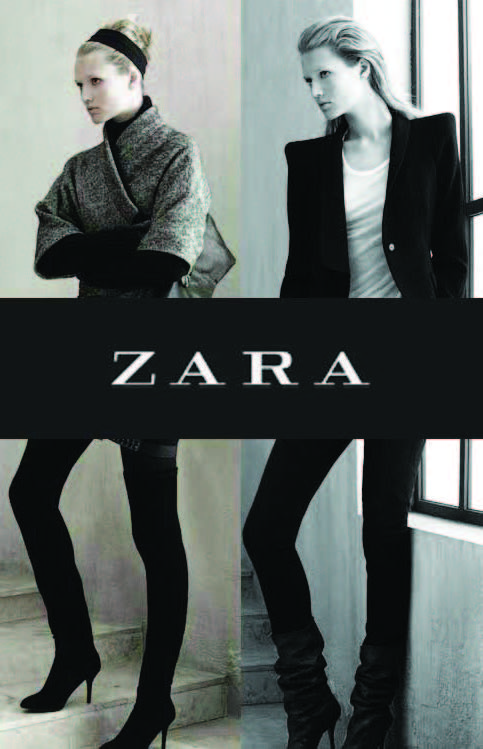 Last year, Inditex, the world's largest clothing retailer and owner of Zara stocked up on Artificial Intelligence, Big Data and analytics into its business strategy to stay ahead in the race of competition. The biggest fashion retailer collaborated with many tech companies and hired talent from startups and partnering Analytics and investments, which offers an AI-powered consumer behaviour forecast platform.
"ZARA trumps over inefficiencies of stocking up inventories by leveraging big data through understanding the taste and preferences of the customer by data analytics and manufacturing the product accordingly to attract customer attention".
Moreover, the company is testing other ways to improve stock handling and tied up with California based Fetch Robotics to measure the stock inventory and test the robots.
Macy's On Call
The digital revolution has taken its toll on traditional retailers like Macy's as well. They have experimented with some interesting technology to try and unite the online and offline worlds, most notably with Macy's On Call.
Macy's On Call is an in-store smartphone-based helper, powered by IBM's Watson AI technology. When a customer enters a store, they can go to macys.com/storehelp and start chatting with the digital assistant. Using natural language processing, Macy's can understand a wide variety of requests and direct shoppers towards their desired items within the store.
It can even detect when users are growing frustrated with the information provided and alert the closest member of in-store staff. Moreover, it addresses an age-old challenge of retailers to help consumers to find specific items and sizes within a vast department store.
Although still ultimately dependent on people visiting the physical store to begin this digital interaction, it is a sign that Macy's is embracing the latest technology.
Nike
Mega sports brand Nike has always embraced technology and created one of the first fitness tracking gadgets with the Nike+ sensor in 2006. It's also a company known for innovation in marketing; they are now combining the two to deliver personalised customer experiences and improve their product offering.
Previously, Nike launched a new system that allowed customers to design their own sneakers in store that not only served as a great gimmick to drive sales, but it also collected a huge amount of useful data that machine learning algorithms can use to design future products and deliver personalised recommendations and marketing messages.
The company has recently acquired body scanning firm Invertex, a move that Nike Chief Digital Officer Adam Sussman said would deepen its bench of digital talent and further its capabilities in computer vision and artificial intelligence. It's clear that Nike has big plans from the data it collects and is certainly one to learn from in terms of the applications of AI both now and in the future.
H&M
Recent years of lacklustre performance and the most significant profit drop in six year has fast-fashion retailer H&M looking for a road to profitability. The company is turning to build a stronger business, drive efficiencies in its supply chain and operations, and give consumers what they want with the help of the insights provided from big data and artificial intelligence about fashion trends and their customers' preferences.
Moreover, the continous challenge faced by the retailer to cut prices to clear out unsold inventory in its 4,288 stores around the world in an effort to better stock individual stores with merchandise local clientele desires, H&M to use Artificial Intelligence (AI) and analyze returns, receipts and loyalty card data to tailor the merchandise for each store.
In order to get that customised inventory to each store and to respond to consumers' demands for a hassle-free shopping experience, H&M invested in an automated warehouse that will ultimately result in next-day delivery for 90% of the European market when they are completed.
Consumers have come to expect anytime, anywhere delivery, plus free shipping and returns—the latter is now being offered to H&M's loyalty customers. The warehouses and loyalty programs are fueled by algorithms and data, and the company is rolling out RFID tech to its stores to improve efficiencies in its supply chain.
Tommy Hilfiger
"If you fall behind, catching up isn't an option." This sentiment was echoed by Tommy Hilfiger at the recent NRF Big Show conference in New York. The designer was discussing the fast-moving nature of fashion and the ways in which his namesake brand stays ahead of its competitors.
With this in mind, Tommy Hilfiger has begun to add AI to its creative process. The brand recently announced a partnership with IBM and The Fashion Institute of Technology (FIT).
As part of the "Reimagine Retail" project, FIT students were given access to IBM Research's AI capabilities including computer vision, natural language understanding, and deep learning techniques specifically trained with fashion data.
This collaboration highlighted the immense potential of AI in fashion design. In this instance, AI isn't used to eliminate the creative process; it's used to complement the process.
ASOS
Online fashion retailer ASOS launched their new visual search technology, available via their app recently. Visual search is a fascinating area of technological innovation, with companies like Google and Pinterest investing heavily in image recognition AI systems.
What these all have in common is the desire to monetise the 'discovery' phase of the shopping journey by making personalised recommendations to consumers before they even know exactly which kind of product they want.
By identifying the shape, colour, and pattern of the object, ASOS' AI technology can then cross-reference its own inventory of products and serve up the most relevant results.
At present, it captures those transient moments where we see something and want to recreate the look. By expanding this to recommend complementary items and complete a new look, ASOS will open another new revenue stream. With the vast quantities of user data it has captured over the years, the possibilities for personalisation will be endless.
Amazon Echo Look
The aim of acting as a personal AI stylist is much closer to being a reality with the Amazon Echo Look. This new Amazon product is intended to help users select the right outfit. Based on voice commands, it can take a picture and review the stylistic merits of the outfit the subject is wearing. This being Amazon, it can also make personalised recommendations for more suitable items.
StyleSnap is Amazon's latest attempt to use machine learning to peddle fashion. Announced at Amazon's AI and robotics conference re:MARS 2019, the tool lets you upload photos and screenshots of clothes and accessories consumer likes.
It then uses machine-learning algorithms to match them to similar items on Amazon. Accredited "influencers" for Amazon are encouraged to get their followers on social media to use StyleSnap to take a screenshot of outfits they've modeled. The influencer will then earn commission on any subsequent sales.
Alibaba
Chinese retail and technology multinational, Alibaba Group, opened its first "FashionAI" recently aiming to streamline the fashion retail experience for customers with intelligent garment tags that detect when the item is touched, smart mirrors that display clothing information and suggest coordinating items, and future plans for integration with a virtual wardrobe app that will allow customers to see the outfits they tried on in-store.
However, this is not the company's first foray into artificial intelligence. In 2015, Alibaba launched its smart customer service system, which automated customer service so well that it achieved satisfaction ratings higher than the human agents.
Alibaba also uses similar technology to Amazon to drive personalised recommendations and search results to shoppers, as well as automatically-generated storefronts that display the most appealing items for individual customers.