Fall/Winter brings out the most dramatic textures and colours. This season, the oh-so-comfortable fleece jacket, trench coats, flattering belted blazers, romantic capes, and cool new takes on the classic faux-leather jackets are the biggest trends that deserve everyone's attention. Coats are huge this coming season, and pretty much in every way one can think of—whether that's to do with the shape, the length or just the colour. Here are the essential classic trendy coats to look for this year.
1. Souped-Up Trench
With the onset of winter & chilly temperature on the rise, it is time to bring out the warm clothing. And nothing says warm clothing like Trench coats. It is a classic piece for everyone's closet. This season it's the trusty trench that has been given the souped-up treatment. With winter approaching, a trench coat is the ultimate transitional weather piece. It'll work just as well thrown over a jeans if its chilly as it will with a floral dress and mules.
2. The Maxi Coat
The long ankle-length coats of the '80s are back again. These maxi coats have been spotted on the streets of major fashion cities across the world & are now ready to enter everyone's wardrobe. By investing in this trend and full length style, one will be fashionable & warm this winter. As this garment will cover the majority of the whole look, choose the colour wisely and add interesting accessories to create the complete look.
3. The hot-pink trench coat
Oversized, hot pink trench coat from Jacquemus was another piece that got people talking during fashion week. This time, it's less about the style of coat and much more about opting for a bold colour. Pink might not everyone's favourite, but it'll definitely make a statement.
4. The Fluffy Coat
luffy coats come around every year, but this time it's not just of the faux-fur variety. While Stella McCartney's versions have caught our eye, there's also Max Mara's turquoise alpaca wool teddy-bear coat that we're seriously considering.
5. The Cape
Wearing a cape coat can be a bit like wearing a warm and comfortable blanket; though much more stylish. The cape hasn't been around for a while, but now it's back. It's unique, arm-less, design stretches as far back as medieval times and is still popular today. Instead of a twee schoolgirl vibe, this time it's chicer. Over at Valentino, there were floor-grazing styles, but Celine's version was part laid-back, park rock 'n' roll.
6. Furry Outerwear
Parkas and puffers are great for winter, but nothing beats a plush faux fur coat. This season's offerings are better than ever with brands debuting furry coats in vibrant colours like pink and cobalt. And it's never too late to hop on this trend. It has got different shades of fur including black, brown or any bright colour. The coats are so cozy that everyone wants to drape it.
7. Fleece Factor
The fall 2019 runways offered up a ton of different trend options to wear this season, but only one means bringing back an old closet staple that you never thought you'd be able to resurrect: Fleece Jackets. Fleece jackets are thought to have originated in the 1970s and since then, they've been a wardrobe staple, but now they have taken a fashionable turn featuring on many of the recent catwalks. Sandy Liang's fleeces have become the must-have items for the fashion crowd, and now all of the popular brands are offering a fleece-something for the wintery season including mixed prints and colour-block designs in pullover styles or the more classic zip-ups we've all come to know and love. Fleece is comfortable, soft, and warm.
8. Two-Tone Dresses
Instead of having to stick with one colour, one can have the option to wear a half-and-half look for this season. There is a variety of options from two-toned Givenchy blazer to two-tone dresses. This small mash up of hues won't dramatically alter the complete look, but it will add a little intrigue to it.
9. Winter Suiting
It's no surprise that pantsuits have become a staple in a fashion girl's closet, as evidenced by street style shots. Whether opting for a check set or a uni-coloured pantsuit, it feels like an instant boss woman. The Roksanda set is on everyone's wish list as the designer re-imagined a pair of tailored trousers into sportier track style which is comfy and cool.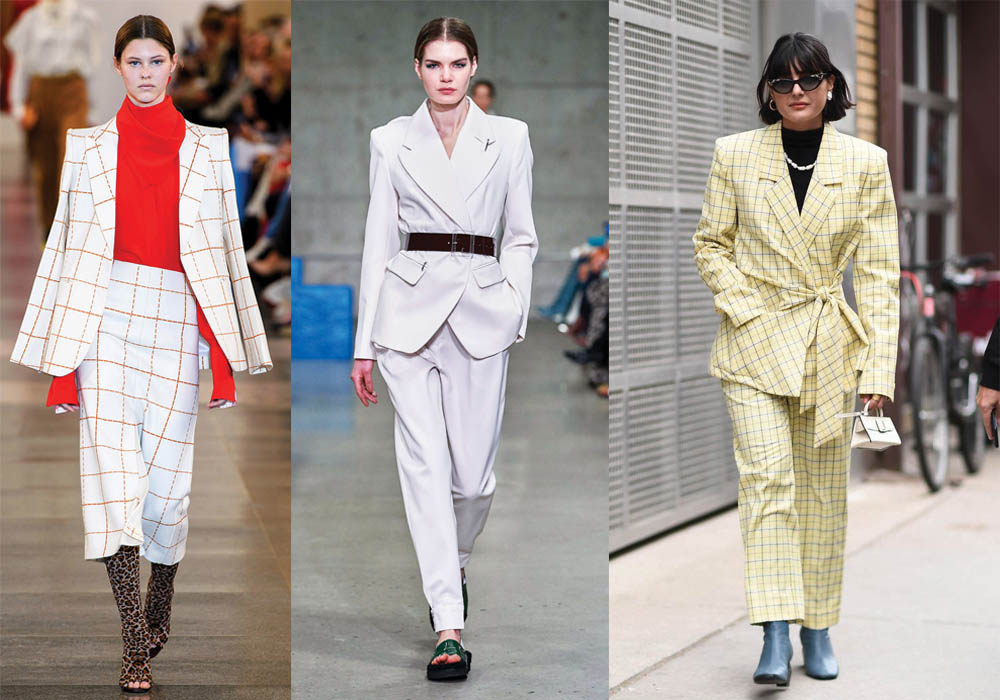 10. Leather Separates
Instead of playing it safe with a leather jacket this season, opt for a cute leather corset or pants. This material is one of fall 2020's biggest trends and will continue to dominate everyone's wardrobe for the rest of the year. Leather bottoms provide an easy way to dress up whether paired with beige sweater or even a white t-shirt.