This article has been contributed by Yvonne Heinen-Foudeh 
True Industry 4.0 applications, defined as factories where physical production processes and operations are combined with digital technology, smart computing, and big data to create a more opportunistic system have remained in laboratory status to date.
We encounter them at trade fairs or we read about the pilot factory by Asian e-commerce leader Alibaba in the Eastern Chinese city of Hangzhou as part of its smart manufacturing business initiative.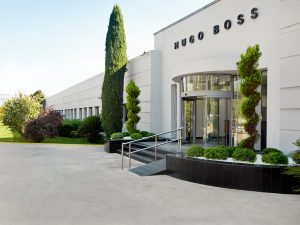 The one and only true and fully implemented industrial smart factory in the Western hemisphere though is represented by the Hugo Boss production site in Izmir, where suits, jackets, shirts and coats are manufactured on an area of around 65,000 m2 with 3,800 employees.
Here, the market leader in menswear demonstrates what Industry 4.0 looks like in practice – with networked machines, in-depth data analyses and flexible processes.
The next industrial revolution will leave its mark as well on apparel creation, manufacturing and sourcing.
Though lagging a bit compared to other industries, the fashion industry is on the verge of a huge digital technology revolution.
Today, everyone in the apparel arena – from major players to small start-up labels – is talking about Industry 4.0 creating what has been called a Smart factory.
To walk the talk – to building and scaling the smart factory – on a broad basis for apparel a lack of knowledge and experience has to be tackled: Professional and managerial training is downright precarious. While technical and higher education institutions are still adapting its curricula, there is a lack of required expertise – now.
Added to this is the need to create the mindset, necessary for the paradigm shift at management level.
Profound guidance to now be available with an inverted (online) class room program, offered by one of the few, who know what they are talking about, from someone who has made the Digital Lean Factory concept a reality – with sustainable success.
Leveraging untapped potential
The protagonist under whose leadership a prime example of clothing feasibility in broad scale industrial environment came true is Joachim Hensch.
"It took my team and me five years to turn the Hugo Boss Izmir factory into a real smart factory", said Hensch, tailor for bespoken men's wear by trade, who has had a remarkable career in product development and production up to the position as managing director for the Izmir manufacturing plant of Hugo Boss Group as of 2015.
His guest lectures at key apparel industry events around the globe on the process remain legendary. Today Hugo Boss brand to as well represent leap forward from more traditional automation to a fully connected and flexible system — one that can use a constant stream of data from connected operations and production systems to learn and adapt to new demands.
After two decades with Hugo Boss Group Joachim Hensch is ready for an all new challenge: "
These days Joachim Hensch Consulting launches the Inverted Online Class Room program, staggered with three degrees.
The application protagonist's framework for the Digital Lean Factory builds the foundation of the training, where everyone determines their individual learning pace for working through
6 modules for the Bachelor
12 modules for the Champion
and a demand-based, upwardly open number of modules for the Master degree.
Big picture learning objective: Successfully implement Industry 4.0 – in daily interactions, digital and analog. "One aim is to enable attendees to re-consider the way how to look to their structures, the processes within their organization, their assets and also workforce", Hensch rolled out.
Time requirement:
3-4 h/week including online meetings for guidance through the process
One-to-one sessions with Joachim Hensch
Specific expert group sessions
Extensive material plus exercise kit to be provided offline for practice purposes and reviews to be provided by JHC www.joachimhensch.com.