IMA recently organized a webinar targeting one of the complex products beachwear
and underwear sectors. In an effort to update and inform its customer and target clients
IMA s.p.a has been organsing such seminars on a regular basis and has collected good
feedback for the same.
"Beachwear and underwear products look easy but actually they hide great difficulties.
The fabrics that are used and then the standard quality requirements differentiate it from other products as it is also about the fit of the garments," said Mirella Sardini, President, IMA. "For this reason, it has been necessary to develop increasingly innovative technological solutions over the years, in order to satisfy increasingly demanding customers," she added.
"The cutting room is the beating heart of the production process. This is particularly true in companies that produce underwear and beachwear for the type of product that must preserve a very high quality associated with delicate materials and extremely small pieces to assemble," said Alberto Pini (Tecnico Commerciale. IMA offers a complete range of products starting from the loading of the piece on the spreader to the
automatic cutting.
A peculiarity of the fabrics used in beachwear and underwear sectors is represented by the high electrostaticity, elasticity and low weight, all aspects that make the fibers shrink during the laying phase (called "drop") which therefore require a certain period of "relaxation" after being laid.
IMA has two different machines, in order to carry out this operation:
The relaxing machine model IMA 869 allows unrolling the fabric by making the fibers lose most of their tension, which can then be rewound into a roll or a flap and be made immediately available for production.
This machine is equipped with an electronic control of the meterage which is carried out both before and after the unwinding operation, thus guaranteeing the millimeter control of the roll's length, an aspect that customers are very sensitive to.
As a second option, the fabric can be stretched immediately with the spreader forming the traditional "mattress", but before going to the cut it is left to "rest" on our multi- level tables, to make it lose tension," added Alberto.
They are a series of conveyor tables one on top of the other and allow to store/ snap several mattresses and they can be moved by the operator in a totally automatic way, when needed. "Once the fabric has been
stretched and all the shrinkage has been eliminated, it is ready for labeling," he explained.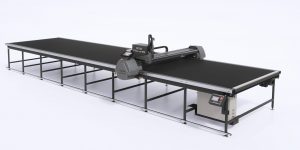 IMA Polaris 908 is the labeling machine that automatically interfaces with any kind of CAD software recognizing the graphic of the pieces before cutting and positioning the labels directly on the fabric without releasing any residual, not even on very delicate fabrics.
IMA Tempest Plus 921 model for cutting compressed mattresses up to 3 cm and the IMA Typhoon 920 model for cutting up to 7 cm of thickness is being offered by IMA for the beachwear and underwear category.
IMA with the help of collaboration has also developed a line dedicated to the laying and cutting of padding (such as bra cups), a very delicate operation made possible by optimizing some hardware and software components of iits cutting machine.
Manuela Head of Production of the company Dolores Font Cortes in Spain shared, "We have been using an IMA spreader and cutting machine for three years now, we produce swimwear and have a high level of quality, with very complex patterns and very difficult fabrics.
With these machines we have greatly improved both the quality of spreading and cutting, achieving goals that were previously unattainable.
We are very happy to have these machines, equipped with extremely effective tools."