It is the end of 2019 and high time to give the wardrobe that majestic upgrade that would take it to the 2020. Street style is the new luxury and the street styles going to rule the 2020 are here. The fashion capitals have dictated some classic pieces with an updated twist to fresh prints, patterns and tailoring. There is an incalculable look for everyone's personal style. The fashion trends spotted at Spring/Summer 2020 fashion weeks are —
1. Shoes Worn Over Pants
An extensive wardrobe of footwear is what demanded the fashion weeks predicting the trends of 2020. Wrapped in a pair of strappy heels over cigarette pants, jeans, or slacks for office or having brunch with friends, is going to be the trend of 2020. A matching jacket, coat, or an off-the-shoulder blouse completes the look as seen in the runways.
2. Oversized Victorian Sleeves
Exaggerated-sleeves are all over the runway and all set to make a major comeback in 2020. Its oversized shape creates the illusion of a bigger bust, slimmer waist and curvier hips which adds an instant feminine touch to the ensemble. This trend with a tucked in puff-sleeve voluminous shirt paired with a skinny trousers or straight leg jeans is an ensemble for a perfect day or night. It's a great time to explore the vintage fashion of 18th century with puff sleeves, high collar necklines, ruffles, white lace.
3. Chunky Boots with Feminine Dresses
Grunge, one of the most popularizing trends of '90s era, has made a huge comeback in recent times. From bold patterns, fun prints to classy A-line silhouettes, mismatched clothing or block colours and loads of denim. In the increasingly casual culture of today, which favours less formal attires, denims are a wardrobe staple for almost any occasion. Elevate the everyday ensemble with a cinched waist maxi styled by a pair of combat boots. From the runways to the street style looks, this '90s authentic trend is a refreshing take on a classic style.
4. Maxi Faux Leather Coats
A maxi faux leather Coat allows you to easily transition your wardrobe and suit for every season. It provides the super glam look and some extra warmth for those brisk nights. This single item can make the look sleek and high fashion or funky with a grunge twist. These long-line leather jackets are perfect for switching things up by rocking a bold colour like red or emerald in an all-black ensemble. This is another '90s staple that just got a fresh upgrade.
5. Bucket Hats
Hats have always been the sartorial styling trick to complete the outfit. Going out of fashion in the '90s, the bucket hat has made a major comeback as seen in the runways this season. A pastel bucket hat will definitely add a quirk touch to a flirty white blouse paired with jeans short. This cute and trendy accessory looks impressive during any season of the year and is so versatile that one can wear it with almost anything. From a zesty lemon to light beige, the soft shades are the most timeless options for a fantastic outfit.
6. Faux Leather Jumpsuits and Boiler suits
This season flaunting a leather jumpsuit is all we could spot on runways. These insanely & infinitely versatile and edgy one-pieces act as a whole outfit and can be worn from day to date-nights, from weekends to parties, from casual to formal affairs. Elevate the everyday fashion with a faux leather jumpsuit paired with a belt bag and stunning boots or sandals to give it a complete look.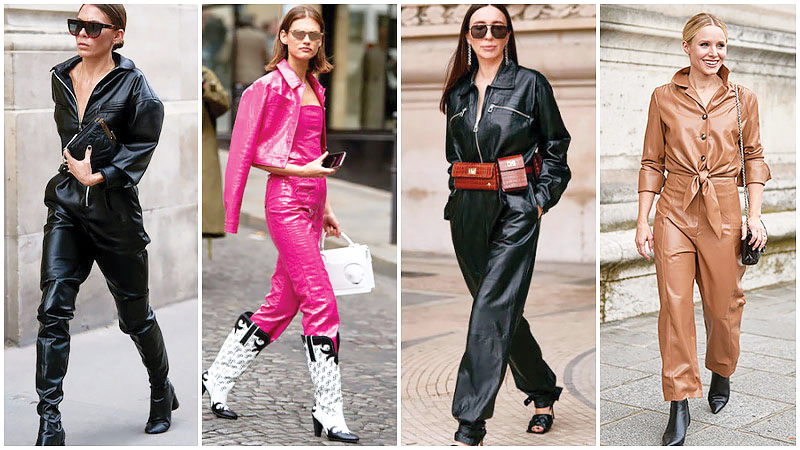 7 Matching Printed Tops and Stockings
Ace your style with a pair of matching tops and stockings in 2020. Despite what the style you follow be it girly or little bit of punk, you can rock a cool pattern with confidence. Stand out from the crowd in varying shades of print, or streamline your entire ensemble with the one tone. Experiment with patterns and create your own memorable and sleek outfit.
8. Square-Toed Heels
Upgrade the accessories' wardrobe this season with the beloved and versatile shoe trends. Square-toe heels, 90's another retro stunner, is introduced with a twist to our traditional heels. Keep the feet free with sandals or transition into the colder months with a pair of ankle boots. These Square-toed heels are the go-to trend this season and it can easily be paired with jeans or pleated skirt to add some interest to the signature looks.
9. Bucket-Style Bags
Worthwhile investment, a handbag, can easily make or break an outfit. Bucket style bags add a luxurious element to every look. Originated by Louis Vuitton in 1932 to keep champagne fresh, now they're the hottest accessory trend. With a long body and round shape, these handbags offer a lot of room, and they are versatile to style & also endlessly practical. All of the top influencers toted around this gorgeous bag during this fashion month and it's not hard to guess why everyone is obsessed.
10. Oversized Gold Chain Necklaces
An oversized gold neckless is a classic, timeless piece that goes with almost every outfit. This is a trend that never goes out of fashion. This season, opt for an oversized style to your ensemble. Whether it's worn against bare skin, with a summer blouse or with a plain white tee, it provides that little bit of flash without being too overpowering.