New York Fashion Week, September just walked its runway, and we're rounding up the freshest looks from the SS20. The overwhelming fashion week has spoken for the upcoming fashion era with a serious hint as almost all the runways were kind of interconnected portraying the same trends with their own different twists. Libertine showcased out of the box suites with see-through to heavily printed saying "Suite up" and
Here are the 15 Trends that come across the fashion week with surety:
A dress over trousers situation seemed to be admired by Coach 1941, Jonathan Simkhai, Helmut Lang, Rebecca Taylor and it looks pretty chic. This trend has already been catching up with the new work street trend profile.
umpsuites are in no matter how dysfunctional. Tom Ford, Tommy Hilfiger, Michael Kors, Prabal Gurung, Deveaux all came up with jumpsuits with different colours ans statements nin their own way. A Nanushka jumpsuit and fedora feel like an urban safari.
 Statement belts are in. Marc Jacobs. Gabriela Hearst, Michael Kors' Blets over blazers, Zimmermann, Brandon Maxwell, Kerry Pieri wearing Nanushka pants and button down with a Bottega Veneta belt all makes sure this trend is to stay.
Suite up before you go out speaks the runway with Matthew Adams Dolan, Libertine and even Oscar de la Renta. Suits could be seen all across the runway in Tom Ford, Phillip Lim, Vera Wang, Tommy Hilfiger, Carolina Herrera, Rag & Bone, Deveaux, Sies Marjan and Anna Sui taking the suit over a swimsuit while the Sci-fi themed suite of Jeremy Scott gave another shoutout to the trend. We have Seen a variety of revolutionary suits in Proenza Schouler, Studio 189, Ralph Lauren. Skirt suits, Alejandra Alonso Rojas as well.                                                                                                                                   
5. Over sized and over the top are simply the norms. Volume goes up of the clothes as seen on Marc Jacobs, Claudia Li, Prabal Gurung, Carolina Herrera, Christian Siriano, Christopher John Rogers. While these went gaga over the silhouette of the garments, Self-Portrait went big on hat, Tomo Koizumi too showcased huge puffy ensemble.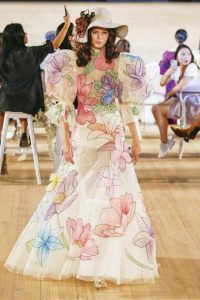 Floral influence in spring shows may be a common factor but this season the florals are big, graphic and much closer to wild flowers look as seen Oscar de la Renta, Rebecca Taylor, Anna Sui, Prabal Gurung and Carolina Herrera. Mark Jacobs vined some gorgeous flowers up his sleeves with huge graphic ones on delicate evening gown making it look over the top and ruffled up silhouettes creating a clourful bouquet look.
Fashion calls for meshed fabrics in 2020 as seen in Alejandra Alonso Rojas, Oscar de la Renta, Gabriela Hearst and Self-Portrait.
Animal prints also included some Dalmatian twists fresh in rusway in Laquan Smith along with the dominant trend of the tiger prints seen across the show. R13 summed up the prints category by combining tiger prints with floral and plaids and topped it off with bucket hats. Jeremy Scott also abide by the tiger print. Judging by what R13 designer, Chris Leba, showed on the runway, the next seasons are definitely going strong on camo and animal prints. And preferably, the more color and pattern mix, the better.                                                                        
Puffed sleeves are flattering his season as well. Carolina Herrera, Sies Marjan, Brandon Maxwell, Ulla Johnson, Khaite, Tory Burch, Matthew Adams Dolan, Anna Sui, Prabal Gurung, Oscar de la Renta, Jonathan Simkhai, Tory Burch all agreed to stick with the trend from last season.  
Shimmer and Glitz was not uncommon at the NYFW'20. We saw Tom Ford with satin glaze and neon red and Ralph Lauren also seemed to love the neon red as seen on model Bella Hadid. The sequined suits of Ralph Lauren, silver pants from Tibi along with Staud, Sies Marjan's glossy greens, blues and yellow all agrees with some glam. Agreeing with the trend was silver sequined dress at Brandon Maxwell while Jeremy Scott went all sci-fi chic look with glitzy silver.
11. Knee length boxer shorts are a thing. Preferably with a loose relaxed fit this trend was seen in multiple runways such as Coach 1941, Staud, R13.
A bandana around neck brings the cowboy image to mind and 2020 seems to endorse the look with as much as possible incorporating with many versatile looks including tying bows. Libertine, Tommy Hilfiger's sophisticated bow, Claudia Li, Kate Spade New York, Self-Portrait are some examples of showcasing the trend.
13. Close to Greenery is Fashion of 2020. Kate Spade New York contributed to the Green movement with accessorizing the ensembles with plants and bag full of veggies. Oscar de la Renta presented huge floral prints on dresses that looked like made of jute, Prabal Gurung incorporated plants with flowers and vines as a part of the look as well.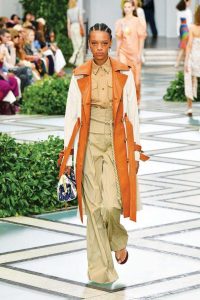 Trench coats though are a classic, it worth a mention as we spotted the old coat with new cuts in Jonathan Simkhai, Helmut Lang, Rebecca Taylor, Staud, Tory Burch.
15. Neon bright colours are in like sunshine. Balanciaga, Ralph Lauren, Coach 1941, Chromat, Jeremy Scott all incorporated some neon in their collections.